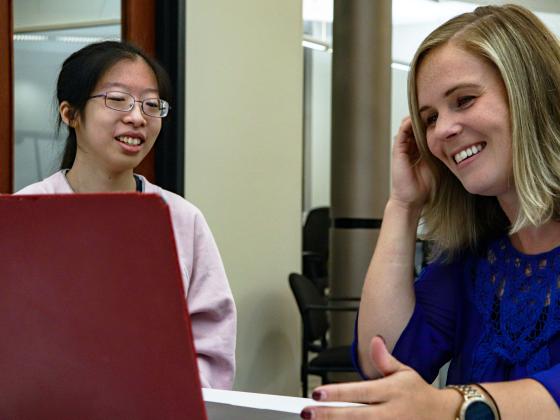 Diversity, Equity, & Inclusion
Mission Statement
Information Technology Services, in conjunction with the University of Kentucky's Office of the EVPFA is committed to increasing diversity, recruiting skilled employees, and increasing employee retention through professional development opportunities across the department. Through our mission, we aim to be a workplace of diversity and tolerance.
ITS Diversity and Inclusivity
Strategic Plan Action Item
The University should develop a plan for recruiting and retaining diverse and skilled IT personnel while developing current personnel. A clearly defined personnel and professional development plan for technology staff is as critical as the operation and maintenance of the systems they support.
Human resources are the single most important IT asset for the University. In order to recruit and retain diverse and skilled IT personnel, we must develop strategies for developing and retaining those already onboard. Significant investments in training and time spent mentoring new managers is required. Exceptional technical employees wishing to remain on staff,  but who do not wish to take on a supervisory role, should not be discouraged from staying by the lack of availability of higher compensation. ITS should work with Human Resources to create and enhance processes that clearly define a professional development plan for each IT employee.
The ITS Employee Professional Development, Recruitment, & Retention Task Force was formed in 2018 to combine IT professionals from various expertise backgrounds to address diversity and inclusion topics within ITS.
Karen Willmott (Co-Chair)
Jennifer Edwards (Co-Chair)
Marci Adams
Stephen Burr
Diana Gold 
Gina Lysell 
Heath Price 
Adam Recktenwald 
Angela Parker
ITS Initiatives
Below is a list of our initiatives and the year they were implemented.
Discussions begin with ITS leadership addressing the need to focus efforts on diversity & inclusion (2017)
Exploration of Women in IT organizations and review of their statements and goals (2018)
Initial planning and meeting of the ITS chapter of Women in IT group (2018)
Decision made to include diversity initiatives within scope of ITSP Action Item 8:2 (2018)
Clarification of definition of diversity in ITS (utilizing UK's Affirmative Action Plan) 
Reviewed University's Diversity Strategic Plan for implications (2018)
ITS CIO, Brian Nichols signs CIO's Commitment on Diversity, Equity, and Inclusion from Educause (2018)
Members of task force visit several central Kentucky high schools to start benchmarking for establishment of K-12 Partnership Program (2018)
ITS chapter of Women in IT Kick-Off Event with guest speaker Penny Cox (2019)
Discussions held between members of ITS, College of Fine Arts, and LGBTQ Center to discuss establishing film and educational speaking series (2019)
ITS begins discussions with Frederick Douglass High School Technology Academy to establish participation in ITS K-12 Partnership Program (2019)
ITS hosts student from UK Human Resources Summer Youth Program (2019)
ITS begins hosting students from STEAM Academy as interns (2019)
ITS Leadership Team members created case studies to be utilized by Frederick Douglass High School instruction (2019)
ITS Employee Resource Portal launched including onboarding and training materials (2020)
Udemy rolled out to ITS employees for equitable professional development opportunities (2020)
ITS begins hosting students from Frederick Douglass High School as interns (2020)
ITS hosts student from UK Human Resources Summer Youth Program (2021)
ITS launches ITS Brand Ambassador program (2021)
ITS begins hosting students from Tates Creek & Lafayette High Schools as interns (2021)
Attendance at K-12 and community career fairs (2018 - 2021)
Career-focused presentations to Fayette County high schools (2018 - 2021)