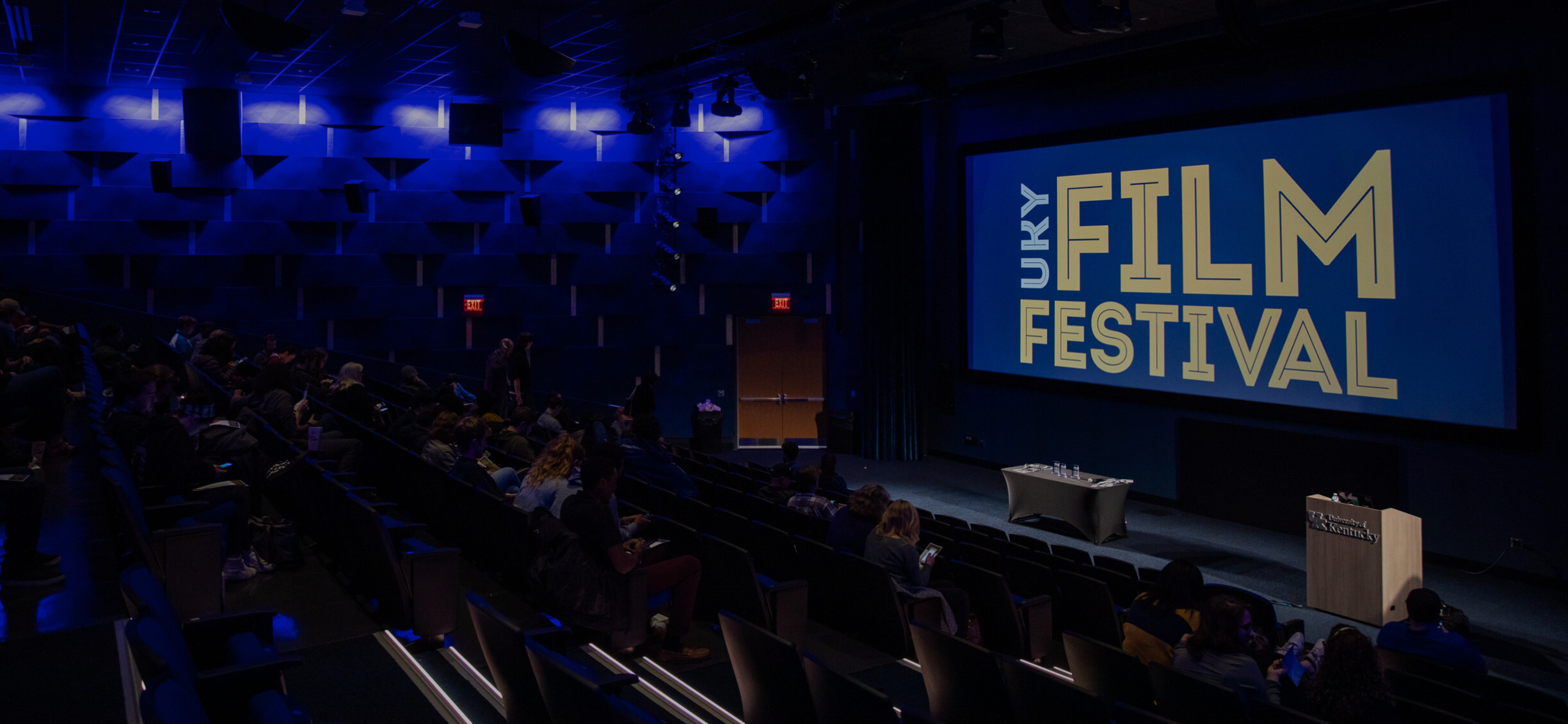 Hosted by the Media Depot
Date/Time: Friday April 29th @ 7pm
Where: Gatton Student Center - Worsham Theater
- free and open to the public
SPRING 2022 UKY Film Festival Details -
Friday April 29th @ 7pm - 9pm (Doors open at 6:30)

Gatton Student Center - Worsham Theater

Parking @ Parking Structure #5/ Cornerstone Garage

After Party and Filmmaker Meet-&-Greet @ the Cornerstone Innovation Space (by the UK Federal Credit Union eSports Lounge).
Submission Details - (SUBMISSIONS OPEN NOW! Deadline: April 15th @ 11:59pm (EST))
Must be a currently enrolled student at UKY or was enrolled in the Fall 2021/Spring of 2022

All submissions must not exceed 8mins (exceptional films may be approved by the selection committee)

Films of any genre will be considered (drama, comedy, action, adventure, horror, etc)

Express yourself creatively (please limit elements of gore, explicit language, and sexuality)

Be Original (acquire all the necessary rights or licenses for materials in the film)

NO FILM WILL BE ACCEPTER THAT CONTAINS COPY-WRITTEN MUSIC

MUSIC RELEASES MAY BE REQUIRED TO SCREEN

Media Production and Editing Resources Available at the Student Media Depot!
By entering your film, you agree to the following:
Submitter is a current University of Kentucky student

You have acquired all necessary rights or licenses for material in the film (talent, music, locations, etc.).

You will provide the Festival with requested marketing and promotional materials including but not limited to a Film Poster, Headshots, short bios, and list of cast and crew.

The UKY Film Festival has the right to use all submissions for unlimited promotion, screenings, and a compilation products.
Awards - Sponsored by: Courage Media
Audience Choice - Selected by the live viewing audience the night of the show

Best of Show Fiction - Awarded to the narrative fiction film with the highest combined judges scores

Best of Show Nonfiction - Awarded to the nonfiction film with the highest combined judges scores

Best Documentary - Awarded to the documentary film with the highest combined judges scores

Best Animation - Best animated film with the highest combined judge scores

Best Performance - Best performance will be awarded to a UK student actor or actress in a narrative fiction role

Honorable Mention - Favorite film determined by the selection committee
Sponsors: Check out our local sponsors!
Courage Media has been sponsoring the awards for the festival for the last several seasons.

Media Collaboratory has sponsored promotional material and last years live streamed event.
More at https://ukyfilmfestival.org/