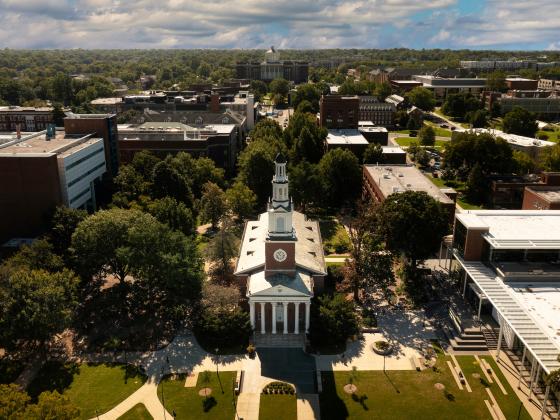 These teams work with departments and units across the University to deliver real value by driving toward technical solutions that promote efficient and effective operations.  Their systems support students, faculty, and staff in day-to-day processes and operations.  In addition, they partner in planning with core areas, finding innovative ways to leverage technology to meet strategic goals.  In a rapidly changing environment, their mission is to be responsive and thoughtful, ultimately enabling our community's success.
Financial Services supports the accounting and financial needs of the University through the functional and operational maintenance and development of the SAP finance module. This includes providing a system which allows for timely and accurate reporting of financial statements as well as administrative functions with complete data integrity and without ambiguity. This area of responsibility encompasses all processes and procedures within the University Financial Services area including:
Endowments 
Invoice Postings
Vendor Payments
Grants
Endowments
Concur Travel & Expense
Cost Distribution Entry Module (CDEM)
Cash Transmittals
Multitude of Interfaces  
Human Resource Services & Training
The Human Resource Services & SAP Training team supports the functional operation of the SAP Human Resources module and its associated cloud applications to help accomplish the goals and objectives of UK Human Resources. They provide on-demand access to web-based and classroom training, as well as on-line and mobile access to time recording, benefit enrollment, and performance management tools through the myUK portal and myUK mobile. This team also maintains organizational, personnel, and payroll data for employees.  Key services include: 
Employee Benefits Administration: Provides on-line enrollment and processing application for employee benefit plans based on eligibility criteria.
myUK Learning: Supports cloud applications for on-demand access to web-based and classroom training that employees can schedule themselves.
Personnel Administration: Maintains the employee record for all employees who have been active at any time since January, 2006.
Organizational Management: Maintains the organizational units, jobs and positions necessary to properly classify all employees.
Time and Leave Management: Maintains applications to calculate overtime, holiday accruals, sick leave and vacation leave accruals and entries. 
Employee Self-Service: Maintains functionality for employees to view and update information on their own HR records.
Manager Self-Service: Maintains functionality for supervisors to view information and process tasks for their direct reports.
Relevant links:
Materials Management Services
The Material Management (MM) Procurement & Inventory Services team is responsible for the design, configuration, delivery and support of procurement and inventory solutions for the University of Kentucky enterprise. 
Remote and onsite support including: 
Standard SAP Enterprise Material requisitioning
Automated Material Replenishment services
Inventory Management for Healthcare/Facilities across the enterprise 
Point of use material supply procurement and distribution in Healthcare 
Punch out catalog shopping in  Supplier Relationship Management (SRM)/Ariba
Web-based procurement forms used throughout Healthcare and campus ancillary areas 
Deferred Purchasing PRD (Payment Request Document)
Standard and custom reporting on all offered services
End-users who have responsibilities in MM should check these pages for general information about the MM processes, MM news, important dates, and documentation. 
Procure-To-Pay (P2P) Purchasing / Accounts Payable (AP) Quick Reference Guide
Facilities Management utilizes the SAP Plant Maintenance module (PM) to manage, maintain and operate the physical assets of the university. PM provides a system for capturing and tracking work requests that are used to maintain all the buildings and equipment on campus.  The SAP Work Manager (mobile application) is also used to assist technicians in the field to efficiently complete daily work orders.  The Facilities mission is to provide a physical environment in which faculty, staff and students can achieve excellence in teaching, learning, research and public service. 
Student Lifecycle Management Services
Student Lifecycle Management (SLCM) Services supports, maintains, and enhances the SAP Student Lifecycle Management module.  SLCM forms the foundation for critical processes of the student lifecycle, from admission to graduation and everything in between.  Major components include the University's academic structure, admission, event planning, course registration, student accounting, student financial aid integration, grading, academic progression, degree audit and graduation.  Additionally, online student services applications support close to 30,000 students and are accessed by more than 8,000 faculty, staff and administrators. 
The SLCM Team consists of developers and functional analysts who collaborate and partner with University student and academic service units to deliver and support transformative and strategic solutions.   Key service areas include: 
Admissions 
Advising 
Course Registration 
Grading 
Graduation 
Registrar and Student Records 
Student Accounting 
Student Financial Aid and Academic Scholarships 
Transfer Center  
Relevant links: