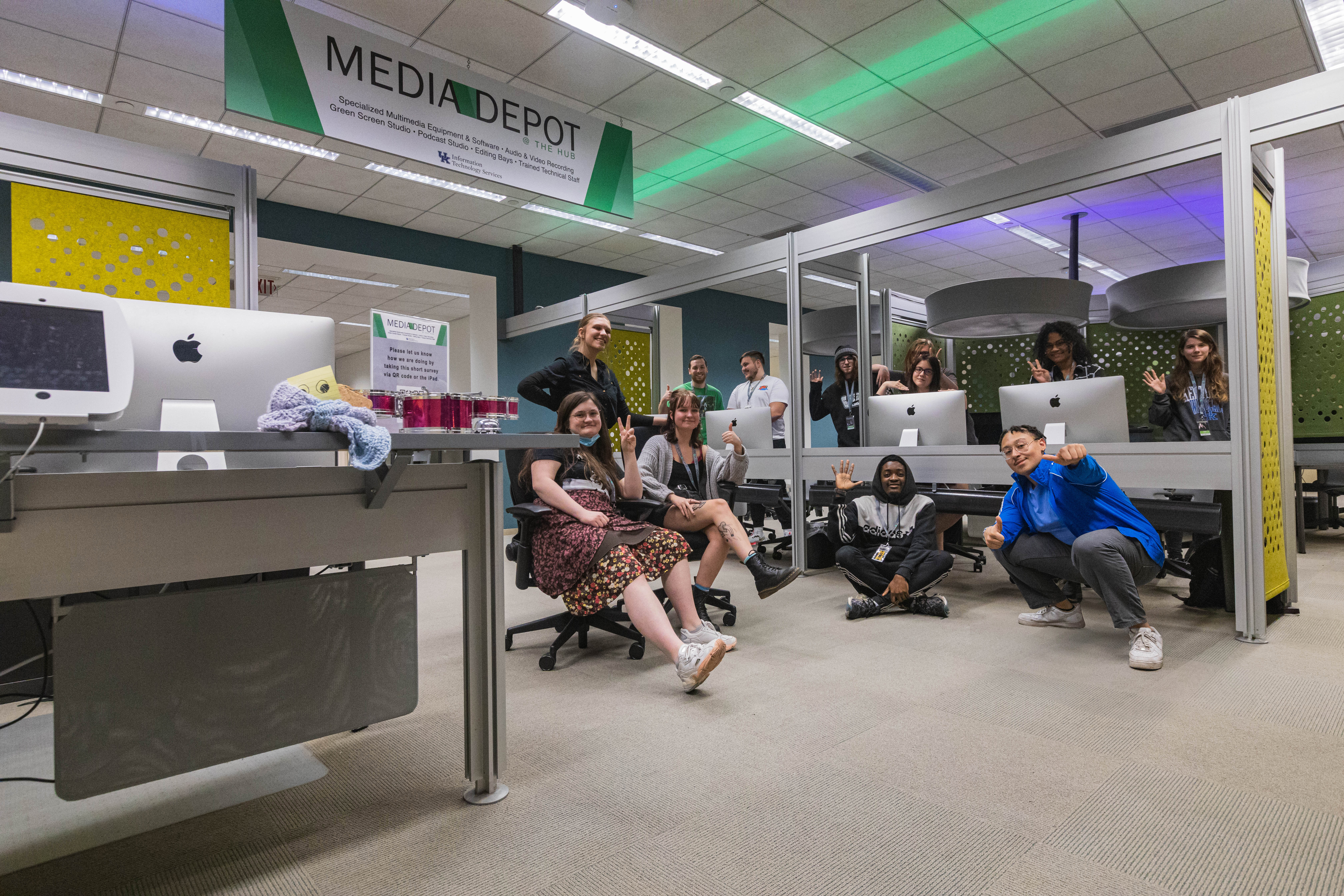 Creating Student Communities Through Technology
In an era dominated by technology, the Student Media Depot and Esports program at the University of Kentucky has emerged as powerful catalysts in creating vibrant and inclusive communities for UK students. As technology continues to shape various aspects of our lives, these innovative initiatives have harnessed the potential to foster collaboration, creativity, and connection among students. The Student Media Depot serves as a creative hub, providing students with state-of-the-art resources and support to explore diverse forms of media expression. Simultaneously, the Esports program brings students together through the rapidly growing world of competitive gaming, providing a platform for skill development, camaraderie, and shared experiences. Together, the Student Media Depot and Esports program embody the transformative power of technology in building a dynamic community that thrives on innovation, inclusivity, and the passion for all things digital. 
Student Media Depot @ The Hub: A Space for Creativity 
The Student Media Depot at The Hub has been a hive of activity, evident from the impressive number of room swipes by students and workshop participants. In the Spring 23 semester, the podcast room alone recorded 1,007 swipes, reflecting the popularity and utilization of this creative space. Additionally, 871 students actively participated in workshops, benefiting from the dedicated support of the Student Media Depot staff.  Moreover, with over 2,000 visits to the recording rooms outside of workshop use, this high level of engagement demonstrates the value and impact of the Student Media Depot in fostering student creativity and providing a platform for learning and collaboration. Moreover, the Student Media Depot extends its support to faculty members by showcasing their work and initiatives. Recently praised by Dr. Karen Skaff of UK College of Health Sciences in HHS Class Learns About Health Care Across the World, Dr. Skaff highlighted the important role the Media Depot played in promoting faculty research and sharing valuable insights. Last year, the Media Depot also helped Information Communication Technology students to partner with iFixit, allowing them to take professional-level photos to include in their guides (Information Communication Technology Class Collaborates with iFixit) . 
The Student Media Depot at The Hub recently hosted the UKY Film Fest, a remarkable celebration of filmmaking talent. This exciting event brought together students and friends to showcase their creative works and celebrate the art of filmmaking. From captivating narratives to thought-provoking documentaries, the festival provided a platform for emerging filmmakers to share their stories and vision. With almost 300 people in attendance and a vibrant atmosphere with a diverse selection of films, the UKY Film Fest highlighted the immense talent and passion within the University community. It served as a testament to the Student Media Depot's commitment to fostering creativity and supporting student projects in the realm of media production. The UKY Student Film Fest was recently highlighted in UK Now (Students and friends celebrate filmmaking at 2023 Student Film Festival.) To see the films and find more information visit https://ukyfilmfestival.org/2023. 
Esports at UK Brings Students Together Through Gaming 
The world of esports has become a powerful force in bringing students together through the excitement of gaming. At the University of Kentucky, the Esports program has organized a series of engaging events and initiatives that have fostered a sense of community and camaraderie among students. The program hosted the Overwatch 2 LAN Invitational, where participants showcased their skills and competed in thrilling matches. The Cozy Cornerstone event, held in partnership with WRFL, provided students with a social space to connect and enjoy gaming together. The program also organized the KHSAA Esports Spring Championship, managing all aspects of production and live streaming for a wide audience. With multiple console and PC games, along with casting and streaming of the finals, the event drew over 300 attendees to the Cornerstone building. The program further extended its impact by hosting the Bluegrass Boost Battle Esports conference, attracting participants interested in building esports programs from both SEC institutions and other universities. Additionally, the program collaborated with RunJumpDev to host a 24-hour Global Game Jam, fostering creativity and innovation in game development. These events not only provided opportunities for friendly competition, but also serve as platforms for collaboration, learning, and growth within the gaming community. 
In addition to organizing events, the Esports program at the University of Kentucky has been actively involved in philanthropic endeavors. They hosted the Esports Governor's Cup, partnering with the University of Louisville (UofL) to raise funds for the Kentucky Children's Hospital and Norton's Children's Hospital. Through this charity event, over $2,500 was raised, making a meaningful contribution to improving healthcare services for children in need. 
Furthermore, the Esports program has played a pivotal role in promoting community and diversity through a variety of initiatives. One notable event is the Girls Who Game celebration, conducted in collaboration with FCPS, Dell Technologies, and Intel. This event featured keynote presentations from esteemed figures such as Mayor Linda Gorton and NASA engineer Alora Mazarakis, providing inspiration and insights for female gamers. Additionally, the program organized a successful three-day Esports camp for middle school students, offering coaching and guidance in a supportive environment. Another noteworthy event is the South Hill Classic, a two-day gathering spearheaded by Dr. Kishonna Gray. The event focused on diversity, equity, and inclusion (DEI) initiatives to foster development in underserved populations within the gaming space. These community and DEI events have created meaningful connections, celebrated accomplishments, and served as platforms for education and empowerment. 
The Esports program continues to thrive, bridging the gap between technology, community, and social impact. Through its diverse range of events, collaborations, and charitable efforts, it has established itself as a driving force in creating an inclusive and vibrant community through the power of gaming. 
The Student Media Depot and Esports program have successfully harnessed the power of technology to create a thriving community for UK students centered around creativity, collaboration, and shared experiences. Through the Student Media Depot, students have access to cutting-edge resources and support, enabling them to explore various forms of media expression and contribute to the vibrant cultural landscape on campus. Simultaneously, the Esports program has brought students together through the exhilarating world of competitive gaming, fostering connections and friendships that transcend traditional boundaries. These initiatives have not only provided platforms for skill development and artistic expression, but have also facilitated philanthropic endeavors and promoted diversity, equity, and inclusion. The Student Media Depot and Esports programs stand as shining examples of how technology can be leveraged to build vibrant communities, foster innovation, and provide transformative experiences for students at UK. As these programs continue to evolve and expand, they will undoubtedly shape the future of community-building through technology, empowering students to explore their passions, connect with others, and make a positive impact on the world around them.