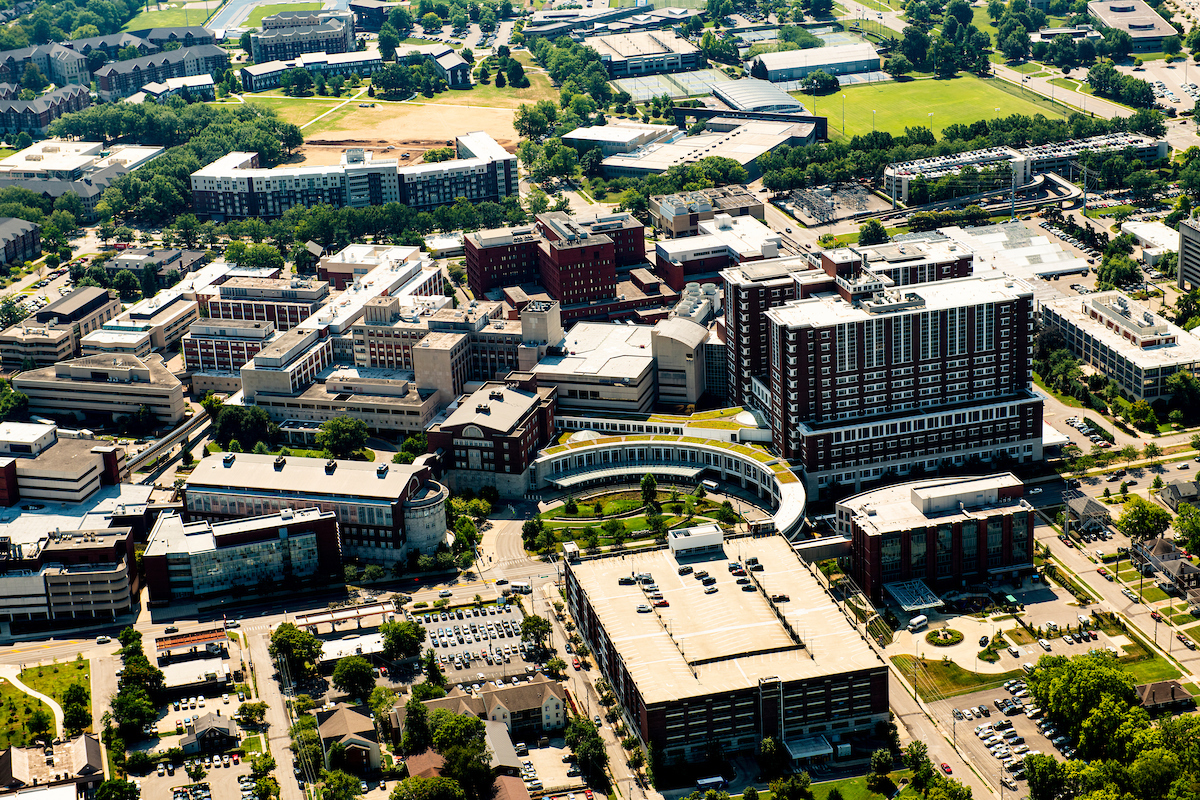 From Late Nights to Early Mornings: UKHC Wireless Upgrade Project
Starting in January of 2023, UK Information Technology Services (UK ITS) Networking & Infrastructure (NI) division began tackling a project to upgrade wireless network infrastructure for UK HealthCare (UKHC). At a first glance, the team knew the project involved many moving parts and a long list of action items that would need to be completed in phases. 
Upgrades to the wireless network infrastructure were important to UKHC for several reasons. First, it would allow UKHC to upgrade to newer Wi-Fi 6 technology and keep up with the latest client/clinical device capabilities. Additionally, this project outlined the implementation of Cisco Spaces and DNA Center. Cisco Spaces is a location services platform that provides real-time asset tracking, making it easier to monitor the location, movement, and utilization of critical assets. DNA Center is a modern centralized management platform that provides automation capabilities and leverages the power of artificial intelligence. This implementation also opened the door for other use cases of Cisco Spaces, such as wayfinding to enhance the experience for patients, staff, and visitors. Lastly, the project provided an opportunity to reassess the overall wireless network architecture and implement changes that brought about improvements in operation, support and performance.  To complete an undertaking like this, the NI teams planned for six maintenance windows in a three-month period. Since the infrastructure affected UKHC systems, all the maintenance windows had to be performed in the standard UKHC maintenance window of 2am – 6am. That meant a lot of very late nights for the UK ITS NI wireless team.  
Miles Fortner, Wireless Network Team Lead in UK ITS Networking & Infrastructure, was grateful for the hard work from the team. "This is one of largest projects I have been a part of and was only a success because of the A-Team we had. Thanks to the wireless team, including Mike Mattone, Martin Mayberry, and Zach King, as well as former team members that put a lot of work into this project, we were able to complete this project successfully. We also could not have done it without our vendor partners from Cisco and Trace3." 
Clain Hendrix, Director of Enterprise Network Operations, added to the accolades for the team. "Miles accepted the position of NI Wireless Network Lead in mid-January, just as the project was getting started. Almost overnight he took on the lead project role orchestrating the various phases and technical tasks with our internal and external project stakeholders. We give a lot of credit to the wireless team and our partners for the project success and a big-shout out to Miles as well for keeping us focused on the goals and excited about the project!" 
Through late nights, early mornings, and countless hours from the team combing through deployment and configuration settings, the project was successfully completed and ready for UKHC. At the conclusion of the project, the team was able to make a significant number of improvements that will provide for easier management, improved reliability and better performance and will enable UKHC to enjoy a robust wireless communications infrastructure.