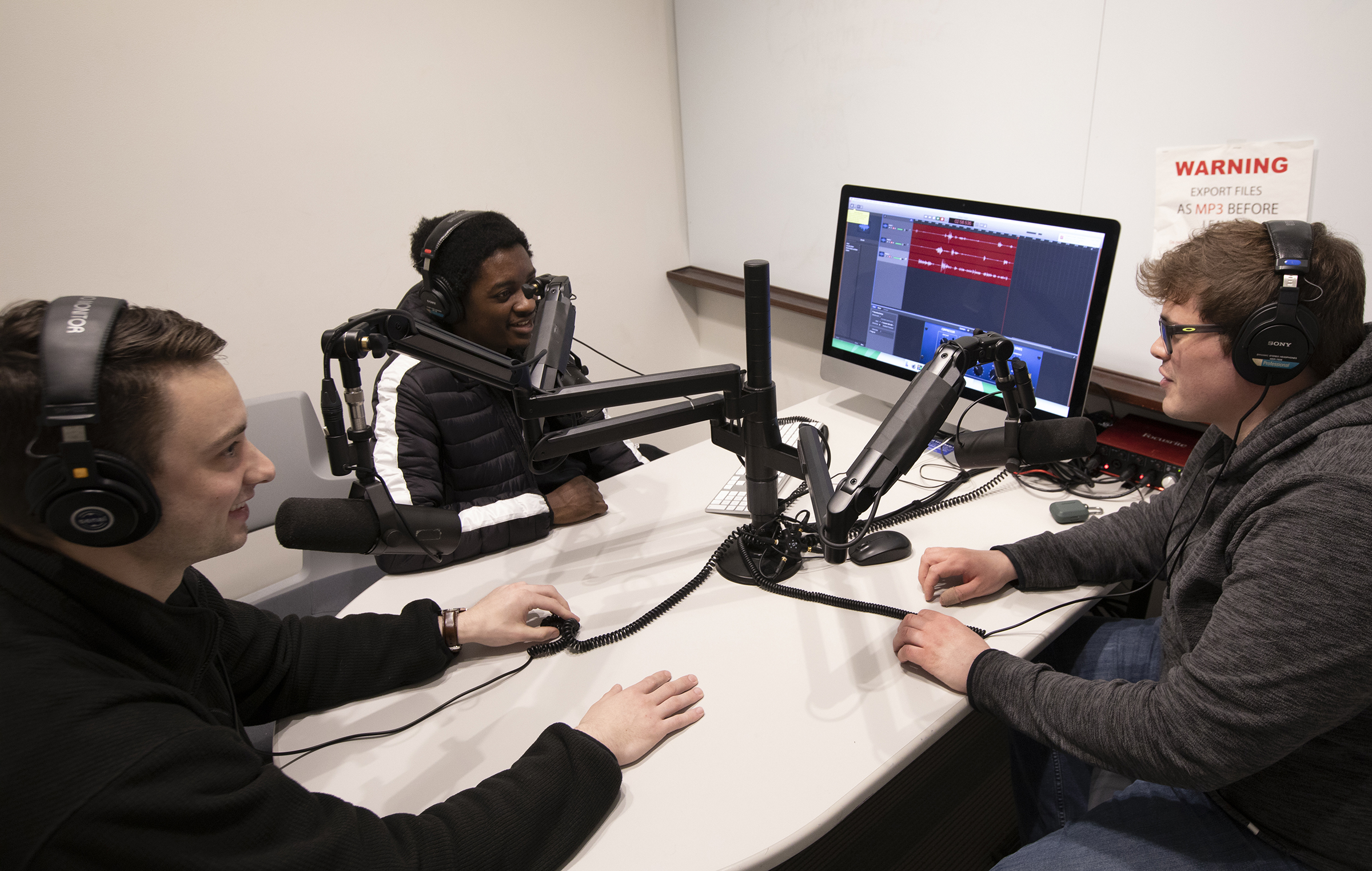 Podcasting in Practice: Bringing Class Material to Life
With the rising popularity in producing podcasts, the Student Media Depot @ the Hub in the University of Kentucky's W.T. Young Library has risen to meet the needs of students and faculty. Podcasting is increasingly assigned as an alternative to standing up in front of a class to deliver a presentation on a course topic. Many instructors are asking their students to reach beyond a simple subject and make a podcast that is engaging and brings the material to life.
Podcasting Rooms Available
The Student Media Depot @ the Hub has three podcasting rooms available with 4 microphones per room to students, faculty, and staff. These rooms are not only available for classwork but also for personal podcasting. The first podcasting room in the W.T. Young Library opened in 2017, with just over 450 visits in the first year. In totaling the visits from this August to November, the Media Depot podcasting rooms have almost doubled the visits from that first year with over 840 visits.
A third podcasting room was made available this year in conjunction with the expansion of the Student Media Depot. The additional podcasting room was donated to students by Dean Doug Way and the University of Kentucky Libraries and equipped with tables donated by Dean Jennifer Greer and the College of Communication and Information. 
Podcasting in Practice
Kirk Laird, director of the Student Media Depot, and his team have given presentations on the Media Depot @the Hub to 31 classes this semester, including courses from the College of Arts & Sciences, College of Communication and Information, and more.
Faculty are finding the podcasting rooms helpful to their course curriculum. Dr. Karrieann Soto Vega, College of Arts and Sciences, has found the podcasting rooms and equipment extremely helpful in her courses. 
"Teaching courses that are centered around audio production, I have had students tell me that they stumbled upon a great resource-- the Media Depot's podcasting rooms. Several students told me they appreciated the help the staff provided, and of course, their projects were a huge success! This semester I am teaching a podcasting class and another first-year writing course centered around audio essays, so I'm sure they will benefit from an expansion in access to podcasting rooms."
Dr. Kishonna L. Gray, College of Arts and Sciences, has also come to use the rooms for her Digital Humanities class.
"What does the Media Depot mean to me? It means I can put into practice what we learn and talk about in the classroom. Take podcasting for example. We spend significant time talking about how to make historical events legible to contemporary times. Podcasts, given their popularity, ability to reach large populations, and ease of use are a fantastic way to engage folks with history. Talk about a truly digital humanities project-- blending the 'old' with the new!"
Dr. Gray's students are going to be embarking on a project where they imagine what historical figures might discuss on a podcast. "For my digital humanities class, we don't just plop folks down into our world and environment, we bring the context of their place and time into current conversation."
Aaliyah Grider, one of Dr. Gray's Digital Humanities students, appreciates being immersed in the coursework. "Imagine Harriet Tubman on a podcast. We have to first put ourselves in her shoes and think about the danger of being on such a public platform could mean for her. She'd be cryptic and use a lot of codes. While this is very fun to imagine, as a Black woman, I also can imagine her fear."
Learn More About the Student Media Depot
Kirk Laird hopes to have even more students come take advantage of the multimedia equipment and support staff in the Student Media Depot. "Since it was created in 2013, the Media Depot has always been supporting multimodal assignments, so we are always known as the place to go for assistance." If you would like to learn more about the podcasting rooms and all the other rooms available at the Student Media Depot, visit its.uky.edu/mediadepot. See videos from the Student Media Depot on their  YouTube channel or follow them on Instagram.