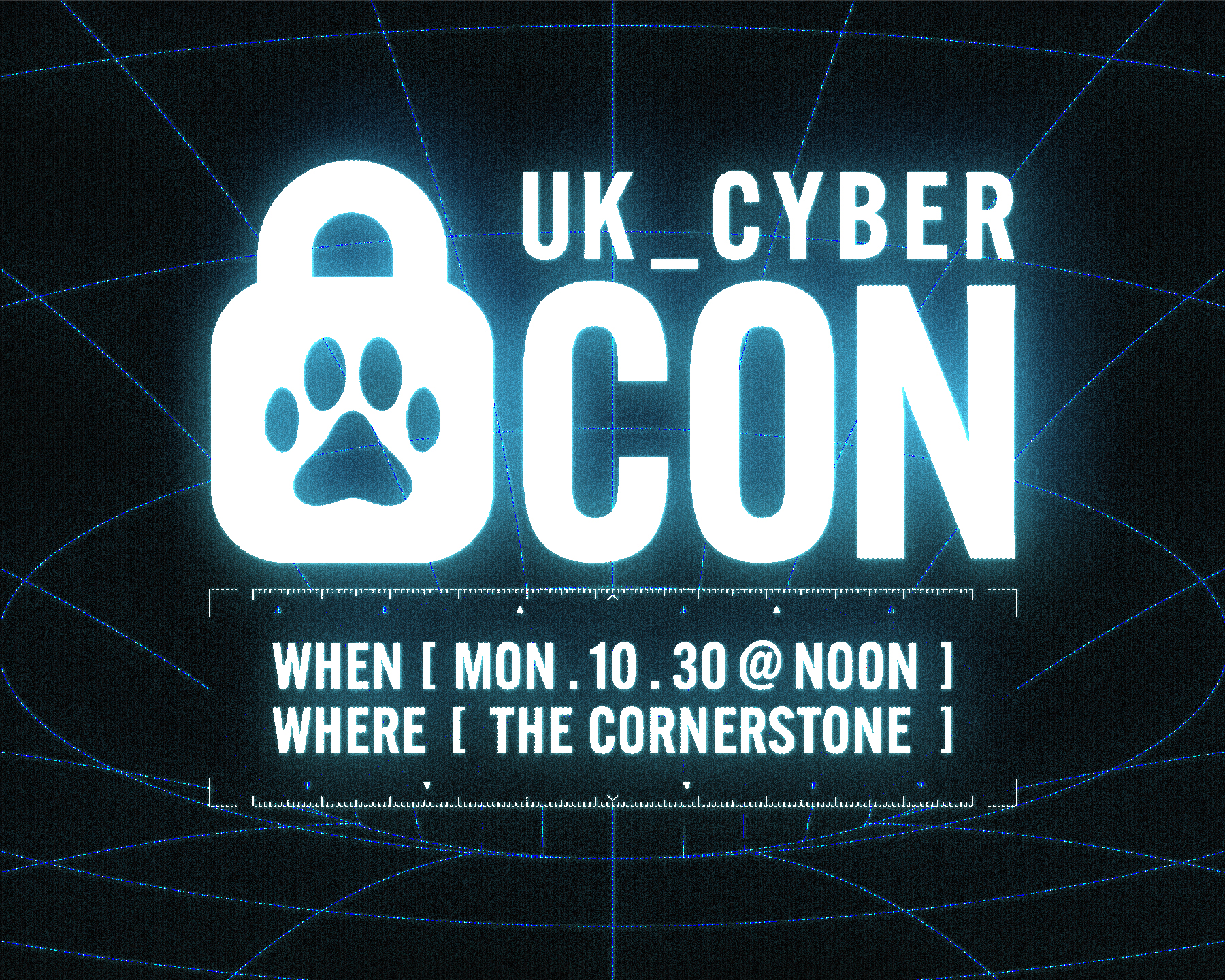 University of Kentucky Information Technology Services Announces CyberCon 2023
The second annual conference welcomes UK students, faculty and staff
The second annual conference welcomes UK students, faculty and staff 
Lexington, KY—October is Cybersecurity awareness month, and University of Kentucky Information Technology Services (UK ITS) invites students, faculty, and staff to attend CyberCon 2023. This year's free event will host cybersecurity experts from the FBI's Cyber Squad, the Cybersecurity & Infrastructure Security Agency (CISA) and UK ITS. Cybersecurity experts will provide networking opportunities, discuss potential career paths, and present valuable cybersecurity information. The one-day event will begin on Monday, Oct. 30 at noon at The Cornerstone on UK's campus. UK students, faculty, and staff are encouraged to RSVP for the event here.  
CyberCon 2023 fill feature: 
Free Food, Exhibits, Games, Networking, and Prizes
Federal Agency Presentation (FBI and CISA) – Today's Threats, Agency Role & Response, & the Future
Guest Speaker Alex Keedy, UK Alumna & Cybersecurity Woman of the Year Finalist
Careers in Cybersecurity Panel                 
Following the event, UK ITS and Student Activities Board will host a move night at Worsham Theater in the Gatton Student Center featuring "War Games" at 6 pm. 
Stephen Burr, Associate CIO and Enterprise CISO with UK ITS, says CyberCon offers everyone a chance to learn about the importance of cybersecurity.  
"Every October, we look forward to opportunities that allow us to engage with the UK community during Cybersecurity Awareness Month. Good cybersecurity practices are necessary for everyone as sensitive information is increasingly shared online," Burr said. "CyberCon 2023 will not only provide the latest cybersecurity information from industry experts—it will also give attendees a chance to see what careers in cybersecurity look like."
As the world becomes increasingly digitized, the need for robust cybersecurity continues to grow. The rise of online activities like remote work, e-commerce, and social media has allowed more people to connect with each other and explore new opportunities. However, it has also created new vulnerabilities that cybercriminals can exploit. 
With the aim of increasing awareness on current cybersecurity topics, promoting careers in cybersecurity, and educating the UK community, UK ITS hopes the event will also be a fun and engaging way to understand cybersecurity.  Full details on the CyberCon event, as well as other activities planned during October for National Cybersecurity Awareness Month, can be found at its.uky.edu/cybersafe.